Q: Isn't there already help for students in the field through their Universities?
A: In most cases, no. There are some very forward thinking Universities who are aware of the realities students face in the field, however the vast majority still regard trauma and gendered violence as the personal problem of the researchers.
Most University sexual assault help centers only provide help when students have been 1) Victimized, harassed, or assaulted on campus, or 2) When the perpetrator is a University staff member. When researchers do come forward about sexual trauma in the field, they are advised to seek private counseling, which is an out of pocket expense they often cannot afford, and further enforces the notion that gendered problems in the field are their own personal responsibilities.
When students reach out to their Universities, they often get replies such as the one below. This is unacceptable.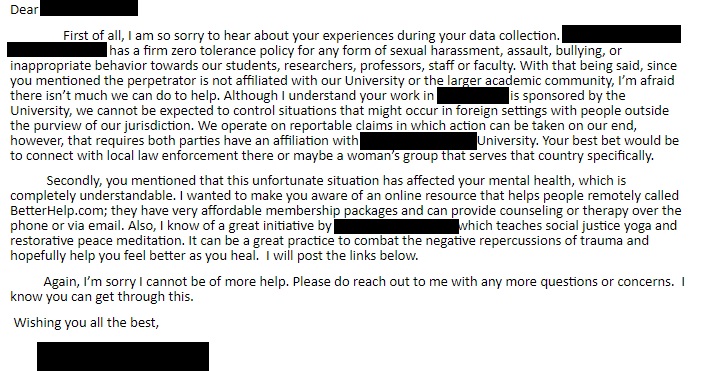 Q. Is the Fieldwork Initiative, the FIEST Training, and the "Women in the Field" network just for women?
A. Absolutely, unequivocally, no. Trauma and sexual assault/harassment in the field is a problem facing students, regardless of their gender. In fact, trans men and women face heightened risk-levels including daily harassment, bullying, assault, and murder. The fieldwork experience is inherently marked by gender, as hetero-white male experiences in the field are different than female, LGBTQ or non-binary experiences, given local power dynamics and gender roles. Despite this, our membership is all encompassing, and the FIEST training is open to all members of the academic community. Due to intimate and private nature of conversations in the "Women in the Field" network, membership is limited to cis and trans women, and the LGBTQ community.

Q. Why don't students just ask their advisers for help?
A. Female and non binary researchers fear that admitting sexual trauma in the field will demarcate them as subpar researchers, lacking street smarts, or somehow negligent for their experiences. They fear reporting the incident may "cancel" their research project or stunt their academic progress. As many students are self-funded or operate on a strict budget, many are financially and/or methodologically bound to finish their fieldwork which becomes a double edged sword when they face dangerous situations that make them want to flee unsafe places.
"Silence regarding harassment and rape consolidates tropes of 'good' fieldwork and recreates male fieldwork experience as normative. Consequently, female researchers may feel inadequate for having encountered sexual(ized) harassment – incidents characterized as 'unremarkable' yet personally traumatizing, which may lead promising scholars to abandon fieldwork." (Kloss, 2016)

Reporting trauma or gendered violence in the field is also extremely difficult for students, as it requires them to divulge uncomfortable information or discuss topics that are personal or intimate. As one of our survivors noted… "When you tell someone that you were a victim in the field, their first response is 'What happened?'. Sometimes you're not ready to talk about it yet and especially in an academic setting where you want to be regarded as a professional researcher".

Q. Shouldn't students expect trouble if they go alone to dangerous places to do fieldwork?
A. No. Gendered violence and sexual assault is not the problem of any one country, any one culture, any one place, or any one language. It is a human problem that defies time and space. Sexual assault has happened to our students across the globe: in a New York office building, on a subway in Hong Kong, on the streets in Brussels, in a bus in Belgrade, on a CEO retreat in Denver, in a clinic in Marrakesh… the list goes on and on.

Q. How can a training stop a future sexual assault?
A. FIEST Trainings provide students and advisers with a wide array of techniques, understanding that no one approach works best for an individual. Students learn about how to make boundaries, how to recognize signs, how to avoid possible situations, and how to seek help. Most importantly, students learn that they should never have to endure uncomfortable, degrading, or dangerous conditions purely as a means to get their fieldwork data.

The FIEST Training module covers the following aims:
Explore possible scenarios that might exist in the field, depending on individual field sites and research projects.
Educate University staff on how to best provide support to students in the field.
Open up a conversation between students and their advisors about how to discuss problems that might arise during fieldwork.
Connect students with safety resources, as well as emotional support networks which they can lean on for further support. All students will be given a copy of the MeTooAnthro Supporting Students in the Field Guide.
Empower students to report violence, and feel secure in halting their work if their comfort boundaries are breached, or they no longer feel safe.
Train students on how to respond to sexual harassment or gendered violence.
Provide mental health connections to all students before they depart on their fieldwork journey.
Kloss, S (2016) Sexual(ized) harassment and ethnographic fieldwork: A silenced aspect of social research. Ethnography Journal 18 (3):396-414